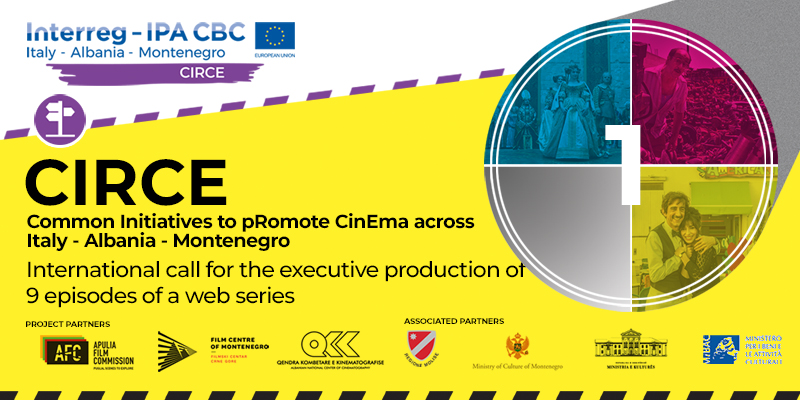 CIRCE, international call for the executive production of 9 episodes of a web series
Overview
Apulia Film Commission Foundation published the call to select 9 directors, who will produce an episode of the anthological web series about the journey, following the below topic: "Stories can be genre fictions or dramas or animations on the topic of journey in all its facets. Journey is intended as adventure, escape, holiday or business travel, but also inner journey, time travel, virtual journey. Journey as dream or need."
This initiative is one of the activities foreseen by the project CIRCE (Common Initiatives to pRomote CinEma across Italy – Albania – Montenegro), funded under the first call for ordinary project of the INTERREG IPA CBC Programme Italy-Albania-Montenegro.
The aim of the web series is to promote the cultural, artistic and architectural heritage of the involved territories of the project: Albania, Montenegro, Molise Region and Puglia Region in order to strengthen their visibility and recognisability through audiovisual tools. As a matter of fact, the episodes will be shot in the territories of Albanian and/or Montenegro and/or Molise Region and/or Puglia Region. 9 young under-35 directors, coming from the territories involved in the project, will be selected in order to make them active protagonists of their own lands' cultural development. In particular, three must come from Albania, three from Montenegro and three from Molise Region and/or Puglia Region.
The episodes of the web series will have a duration of no less than 10 minutes (credits excluded), and the maximum amount established for the executive production of each episode is € 20.000.
Interested participants can read the call and the related attachments on the website of Apulia Film Commission (http://www.apuliafilmcommission.it/bandi-e-fornitori)
, and submit their application through the digital platform available at this link: http://dev.hsh.it/afc/.
The deadline to submit the application is 27 May 2019 at 23.59 (Italian time, UTC + 1).
Apulia Film Commission Foundation is the lead partner of the CIRCE project, which involves three beneficiary partners (Film Centre of Montenegro, Albanian National Centre of Cinematography and Molise Region) and three associated partner (Ministry of Culture of Montenegro, Ministry of Culture Republic of Albania and Ministry of Heritage and Culture and Tourism (MIBACT) – Directorate- General for the cinema).
For further information, please send an email to the following address:
cristina.piscitelli[at]apuliafilmcommission.it
Attachments: