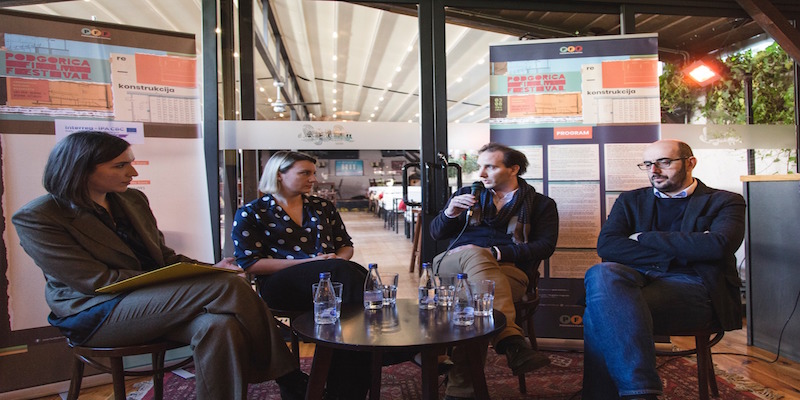 CIRCE support to Podgorica Film Festival
Overview
CIRCE supported the 2019 edition of Podgorica Film Festival from 3rd to 8th December in Podgorica, capital of Montenegro. PFF organized CIRCE panel discussion where the panelists were: Drita Llolla, executive director of the NGO iACT (I Act) and Seanema Film Festival from Ulcinj - Drita Llolla, Sehad Čekić, Head of the Film Center of Montenegro and professor at the Faculty of Dramatic Arts in Cetinje and Aleksandar Vujović, Montenegrin director, multimedia artist and producer. The program was moderated by Gana Čomagić.
The panelists emphasized that the project focus is on improving the conditions for the cultural and creative industries of the audiovisual sector, in order to provide added value to cultural heritage through cross-border initiatives and to make the strong network between project partners as well as all involved creative workers.
As stated on the panel, CIRCE project will carry out several activities such as: joint production of the nine-episode web series, exchange of experiences, good practices (incentive measures), networking for film festivals in the area, investments to promote distribution in Albania and Montenegro, but also new activities for workers in the audiovisual sector.
Panelists also stated that CIRCE is developing in the right direction and that the project carries numerous benefits. Everyone who participated felt it, and so did the audience.
Thanks to CIRCE project, the Podgorica Film Festival was enriched with the works of authors from Puglia and Albania - presented through the program.The following feature films were hosted in Podgorica during the PFF:
04.12. at 18:15 - La Guerra Dei Cafoni / The War of Bumpkins by Davide Barletti and Lorenzo Conte;
05.12. at 18:15 - Streha mes reve / A Shelter Among the Clouds by Robert Budina.