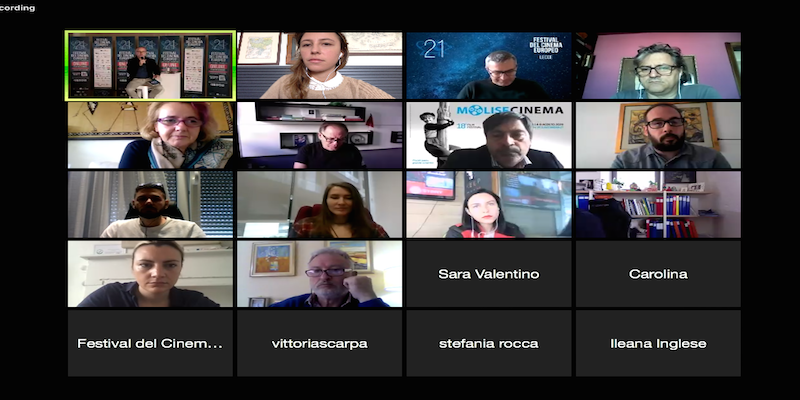 Toward the establishment of CIRCE Network of Film Festivals
Overview
The CIRCE project is one step away from establishing the Network of Film Festivals of the Southern Adriatic Area.
The Festival del Cinema Europeo, with the support of Apulia Film Commission Foundation, was supposed to gather in person the Directors of the Film Festivals from Albania, Montenegro, Molise and Puglia during the festival week (31 October 2020 - 7 November 2020). The new coronavirus restrictions required the meeting to be virtual but, although physical interaction was missed, participants were enthusiastic about the results of the initiative. 
The Network of Film Festivals, one of the activities foreseen by the CIRCE project, aims to promote cooperation and improve the artistic quality of the respective festivals, enhancing the cultural offer in the area.

During the online meeting held on 5 November 2020, several representatives from Albania, Montenegro, Molise and Puglia Film Festivals gathered for the second time (the first was in August 2019 in Casacalenda, in occasion of the 17th edition of MoliseCinema Film Festival) to delineate together the Statute of the Network, establishing its operating rules and organizational structure.  
The initial network composed of Dea Open Air International Film Festival, Festa Del Cinema Del Reale, Festival del Cinema Europeo, Filmski Festival Herceg Novi - Montenegro Film Festival, MoliseCinema Film Festival, Mònde - Festa del Cinema sui Cammini, Seanema Film Festival, Tirana International Film Festival and Underhill Fest enlarged with this second meeting thanks the participation of AniFestROZAFA, Balkan Film & Food Festival, Green Montenegro International Film Fest, International Human Rights Film Festival, OFFF - Otranto Film Fund Festival and Podgorica Film Festival.  
The signature procedures of the Statute are currently in progress. Once the Statute is signed, the Network will be born officially, becoming a space for the exchange of experience and best practices, as well as an instrument for coordinating activities and promote the Network as a whole. Any other Film Festivals of Albania, Montenegro, Molise and Puglia will be welcomed at any time.