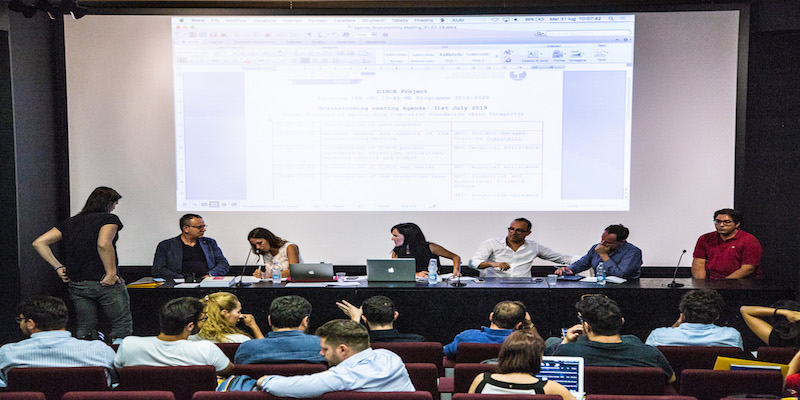 Apulia Film Commission Premises
CIRCE Brainstorming Meeting, the promising start of a wonderful journey across Italy, Albania and Montenegro
Overview
Apulia Film Commission organized a Brainstorming Meeting at its premises on 31 July 2019 with the winners of CIRCE public call for the executive production of 9 episodes of a web series about the journey.
The young winning directors, announced last 22 July by the Project Manager Cristina Piscitelli, were invited in Bari together with their productions to meet Apulia Film Commission team and discuss the details of their projects.
As a matter of fact, the Brainstorming Meeting consisted in a plenary session where each economic operator made a brief presentation about its project and a one-to-one session with the Showrunner Leonardo Rizzi and the Delegate Producer Ilir Butka.
The meeting was a huge success and represented the promising start of a wonderful journey across Albania, Montenegro, Puglia and Molise.
Thanks to CIRCE web series, the cultural, artistic and architectural heritage of the involved territories of the project (Albania, Montenegro, Molise Region and Puglia Region) will be strengthened and the 9 under-35 directors, coming from these territories, will be the active protagonists of their own lands' cultural development. 
Apulia Film Commission Foundation is the lead partner of the CIRCE project, which involves three beneficiary partners (Film Centre of Montenegro, Albanian National Centre of Cinematography and Molise Region) and three associated partners (Ministry of Culture of Montenegro, Ministry of Culture Republic of Albania and Ministry of Heritage and Culture and Tourism (MIBACT) – Directorate- General for the cinema).